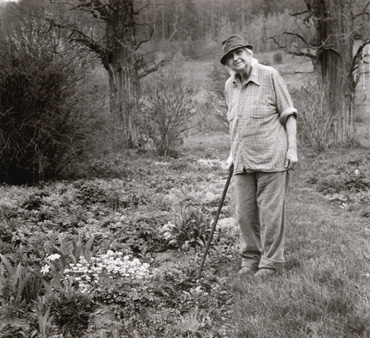 Alice, Putney, Vermont

Print size is 5 inches x 5 inches.
Alice Holloway, like some people just don't like to be photographed. I was photographing Alice as part of the Brattleboro Museum's show on gardens. Alice's gardens were very well known, so was Alice. I used a Hassleblad camera with the hood viewfinder and held the camera at my waist. I set the focus and then locked the mirror in the up position. We used the gardens as the setting to take the photos. As we walked through the gardens, I kept a constant distance from her and we talked about the garden and her great-grandfather who, in her words, did a really stupid thing, he voted Vermont into Statehood.

The true impact, statement, and artistic value of the photograph is lost in the process of making the photograph web friendly. The only way to really appreciate fine artwork is to see the real thing. All work shown on this site is for sale and comes with a 30 day return policy.
---
Return to home page Gallery Workshops

For more info contact
R T Ritter rrlg4mat@sover.net

©2002 R T Ritter