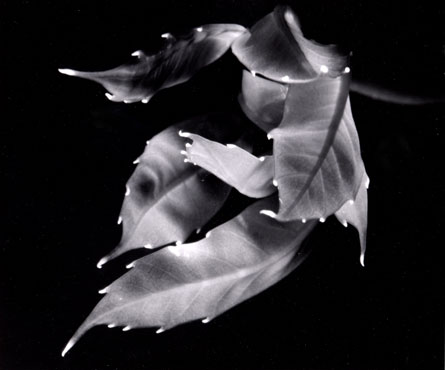 DANCE

Print size is 5 inches x 6 inches.
These newly opening leaves had a radiance and color that glowed. An old Silver Dollar could have been used for the background. The sunlight was soften and filtered by the smoke film and dirt on the window that provided the light for this photograph. Between bellows extension, reciprocity failure, and a long exposure the back ground just disappeared. Exposure f 32 @ 5 minutes 90mm lens.

The true impact, statement, and artistic value of the photograph is lost in the process of making the photograph web friendly. The only way to really appeciate fine art work is to see the real thing. All work shown on this site is for sale and come with a 30-day return policy.
---
Return to home page Gallery Workshops

For more info contact
R T Ritter info@lg4mat.net

©2002 RTRitter